Mainline Computer Subfloor Cleaning and Decontamination
Products
Showing 1 - 1 of 1
« Previous
|
Page:
1
|
Next »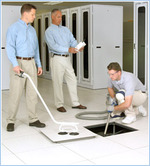 Data Center Subfloor Cleaning
Reduces harmful influences such as dust, debris and static buildup in your subfloor environment.
Contact Us
Showing 1 - 1 of 1
« Previous
|
Page:
1
|
Next »
Mainline Computer Products offers specializes Subfloor Cleaning / Decontamination services. This critical area requires proper training and experience as there are many common dangers in a subfloor environment. Technicians are trained to clean / decontaminate the subfloor without harming sensitive wiring or equipment.
Our service utilizes:
• Trained technicians
• Triple ULPA / HEPA filtered CRV's
• Interference suppressed electronic instruments
• Non-linting applicators
• Custom cleanroom / data center approved static dissipative solutions
• Before / After free environmental report after completed cleaning
For more information call 1.800.686.5312 or email: sales@mldelivers.com

---
See how we have provided cost-effective solutions for organizations nationwide.
Case Studies.
In addition, our services include site design and infrastructure planning, construction management, power protection and security planning.
For more information Email: Sales@MainlineComputer.com or call (800)686-5312.

Privacy | Return Policy | Shipping Terms